Do you look at your home and think that it could do with a bit of TLC? If so, then you have come to the right place. This guide will tell you all of the things you can do to make your home appear more maintained without breaking the bank.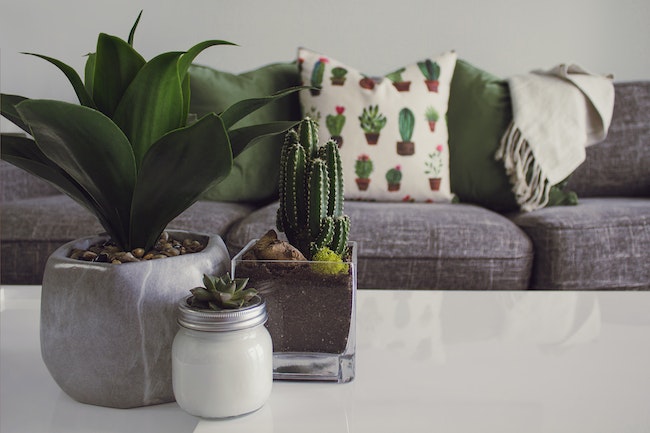 Image Credit
Paint your Front Door
This isn't a huge investment and it's ideal if you want to make a major difference to your home in just one day. Your front door will be relatively easy to repaint, and you have a lot of options here too. You can go for a classic color, or you can opt for something a bit bolder if you want. Either way, it doesn't matter which color you go for, but it does help to make sure that it blends in with the theme of your street. The last thing you want is for your home to stand out for all the wrong reasons.
Plant some Colorful Pots
Consider using some planters so you can change your home with the seasons. If you have some steps that lead to your front door, then you can easily add some groupings of pots or even some topiaries if you want. You can plant boxwoods or evergreens if you do not want to garden all year round and this is great, to say the least. Just make sure that you do not go overboard and that you take the time to pick plants that utilize one or two hues. This is a great way for you to make sure that it adds to your home, without overwhelming your space.
Build a Fence
Even if you do not have a classic-looking home, it's easy for you to create the same friendly vibe by adding a fence. This may sound cliché, but a fence is one of the best ways for you to make your home seem inviting. You can go for a white picket fence, but you can also opt for an iron-style fence if you want to make your home stand out a bit. Just make sure that your fence is not higher than the other fences on the street because the last thing you want is for your home to look and feel like a prison.
Get Rid of Grime
The great thing about pressure washing is that it is inexpensive and satisfying. It's a simple task but the payoff is huge, and it could even help you to avoid a full paint job. It's very easy for you to rent a pressure washer, if you do not have one.
New Windows
If you want to make your home, look great then one thing you can do is look into home window replacement. When you do, you will soon find that your home looks way better and that you are able to add a ton of value as well. New windows will let more natural light into your home as well and this can make all the difference to how your space looks and feels.