There's nothing more stunning than the Philippines, with so many islands and beaches to choose from it's a wonder anyone ever comes back from their holiday. You could spend an eternity exploring the scenery and enjoying the activities on offer. It really is a destination that everyone should visit at least once in their lifetime.
Have you been dreaming about beach holidays in the Philippines? There's good news because we have taken a look at all of the beautiful beaches in the Philippines and narrowed it down to the best four beaches that you absolutely have to make time for during your Philippines travel.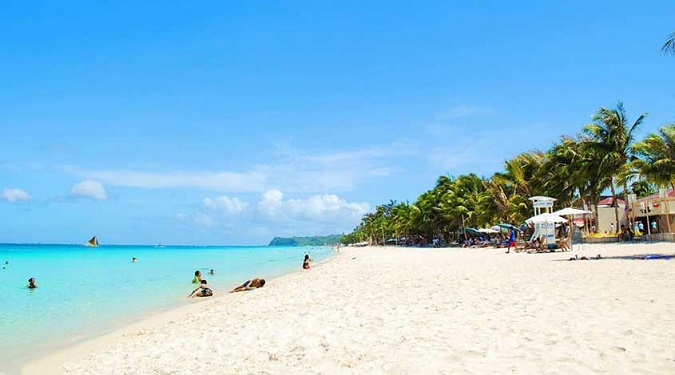 Image Link
1. Boracay, Aklan
This small island is just 300 kilometres from Manila, to the south in the Aklan province. It's famous for its pristine waters and powdery white sandy beaches. Boracay is easily one of the biggest tourist destinations in the area with over 350 resorts. Those resorts in total feature around 2,000 rooms and the great part is if you want luxury – you will find it, but if you're on a budget, you'll find somewhere appropriate.

It really does have something for everyone, whether you're interested in sunbathing all day and hitting bars and restaurants in the evening or you have plans to indulge in water sports – it's all there. The area's most famous beach is White Beach, and it was once known as the world's finest beach. The island itself has been named the best in the world, too. The perfect time to visit is between November and May as monsoon season runs from June to October. There are no direct flights, though, so you'll need to grab a boat.
2. Coron Island, Palawan
If you are looking for beauty, you can't look past Coron Island. This island also shares a name with the local city's largest town. The island is home to steep cliffs of limestone, white sandy beaches as well as seven different mountainous lakes. It regularly appears in top ten lists for its scuba diving spots. When you look beyond the incredible rock formations, there is more, secret lagoons with crystal waters and a secret beach. It may be a struggle to get there, but it's worth it. There are two ways to gain entry to the secret beach – swim through the sea tunnel or climb the cliffs.

This area isn't as busy as the other beaches as it isn't a hotspot for tourists, however, going off-peak is a great way to avoid crowds altogether. Once you fly into Busuanga you can grab a bus or van to Coron. It takes around 45 minutes, but do know you can't stay overnight – so if you're planning a proper trip you'll need to stay in Coron, Busuanga.
3. Pagudpud, Ilocos Norte
Crystal clear waters, white sandy beaches, and plenty of water sports to be had, Pagudpud is basically the North's Boracay. There is one big difference between in and Boracay, though; there are no shopping spots here. In fact, you're lucky to run across an ATM so make sure you have cash at the ready. What you will find are incredible attractions such as Kapurpurawan Rock, Kabigan Falls, Bangui windmills, and the Patapat Viaduct. You will probably want to rent a car so you can see everything.
4. Mactan Island
It's located in Cebu, which just happens to be one of the world's best islands. It's a big tourist attraction and it's the perfect spot for snorkelling and diving. You can also island hop and check out jet skiing, para-sailing, sailing, and more. The great thing is that because you're in Cebu there is so much more to explore than with the other islands. It's the perfect holiday balance of excitement and relaxation.

The best time of year to visit is between January and Mary, you can expect rain in the remaining months. Though that's no guarantee that you won't see rain at all while visiting, it's one of the Philippines wettest regions.
Don't forget to try some of the local food. Filipino culture is rich and their cuisine is incredible – don't miss out on the whole roasted pig, pancit, lumpia, kare-kare, singang, and more. While you're there, why not try the infamous Durian fruit. It's known as the king of fruit, but it's also known for being banned from hotels due to the stench. While it may be overpowering on the nose, the fruit itself is delicious – it's sweet, it's savoury, and it's creamy. It's truly a unique fruit that anyone travelling the Philippines must try for themselves.
Looking for travel deals Philippines? Visit booking.com flight codes to get the best deals on your trip to the Philippines, no matter which beaches you want to check out. Why not visit them all? Whether you take an extended trip or keep going back for more.