Working from home gives you a lot of freedom, but at the same time, creating an ideal workspace at home where you can work well can sometimes be difficult. So if you are wanting some advice on creating this space for yourself, here are some tips.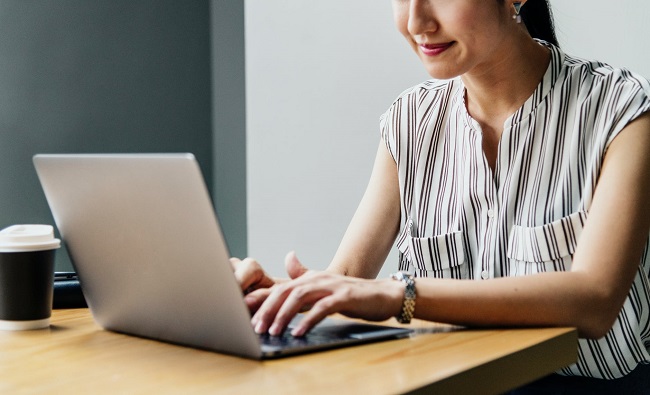 Image Credit
Keep It To The One Room
The worst thing that you can do is to use your laptop to work in various areas of the house. That then becomes an issue because you'll have these areas that feel like a workspace and a living space. It's important not to confuse the two together. Keep it the one room and have a separate office space or use something like your dining room where you can sit at a table and get the proper support for your body. To stop yourself from going to a different room, think about investing in a desktop computer which you could move, but would be a pain. Keep any electronics like your TV that may be a distraction off and if it helps, close your office door to avoid any temptations to procrastinate in another room.
Have The Right Equipment
Talking of the proper support, with any business, you'll have the option to add things to your workplace to make it more comfortable. Things like a monitor riser for example or an adjustable footrest work really well to help you keep your posture at the right position and that avoids any health problems further down the line. If you're going to be doing a lot of work on your computer, you may find that after a certain period of time you are maybe getting headaches and that your eyes become tired and sore. This is thanks to blue light, and in order to fix this, it may be wise to get some blue light blocking glasses so that you can continue to work long hours without impacting your eye health too much.
Let In The Light
Light can do a lot for our mood, and when it comes to working all day indoors, you need to make sure the lighting is perfect. Natural light is the best kind of lighting, so if you find the sun catches your office or working space, move your position so that you are sitting near this pool of light. Immediately you feel a change in the way you feel, and that can be really beneficial for your productivity levels. Also, have a think about the lighting that you have in the form of table or standing lights. Ideally, you want them to be warm instead of that harsh clinical white. You can also get lighting that can mimic natural light too, so this can be used to help you wake up on time in the mornings.
Think About The Temperature
A lot of things can affect your productivity, and one of them is the temperature of the room. If it's too hot or too cold, then your productivity levels will dip, and that's never any good for your work. As you're working from home, you don't get that luxury of being able to have free heating or air-conditioning. But you can still provide yourself with a nice atmosphere where the temperature is just right to help you continue working. When it comes to heating, it's good to turn it off and on intermittently. You want it to take the chill off the room, and so you can get it to turn on around thirty minutes until you are due to get up. Switch it off and then back on around lunchtime and then maybe back on in the mid-afternoon.
When it hits the warmer periods of the year, keeping the room cool is very important. You don't want to be sweating while you're working, let's be honest. So invest in a good cooling fan that you can keep on in the background while working, and this constant stream of cool air will definitely help. To keep your home maintenance in a fit state, it might be worth looking at a heating and air service, just to make sure that everything is in working order. You'll be working from home so it will be a nightmare if your heating suddenly stops in the middle of winter.
Block Out Distraction
Even in a traditional workplace, there are distractions. Whether it's talking to a colleague about what you got up to at the weekend or browsing on the internet to look for some new clothes for the wardrobe. These distractions can stop you from getting important work done. So as a rule, you might want to block certain websites from home which you can do via your internet settings. This temporary freeze can stop your procrastinating side from getting onto a site that's going to waste your time. Depending on how you like to work, music or the TV on in the background may help you, but you don't want anything that is going to draw your attention and leaves you watching or listening without working for a good ten minutes. Having a break is important, but not when it becomes half an hour instead of ten minutes. Make a proactive effort to block out your distractions so that you can make as much out of your working day as possible.
Creating an ideal space for working from home can be tough but also once it's been perfected, it can be a great freedom to be able to pick your own hours and to be your own boss with how you work. Remember to keep it to the one room so that you separate your workspace from your living space. Ensure you have the right equipment to make it comfortable for you. Adjust lighting and room temperatures for the perfect atmosphere to work. And finally, block out the distractions so that you can make the most of your day. Being in charge of yourself can be tough, but if the working space is right, you'll find your groove and hopefully will gain a lot of success from the comfort of your own home.