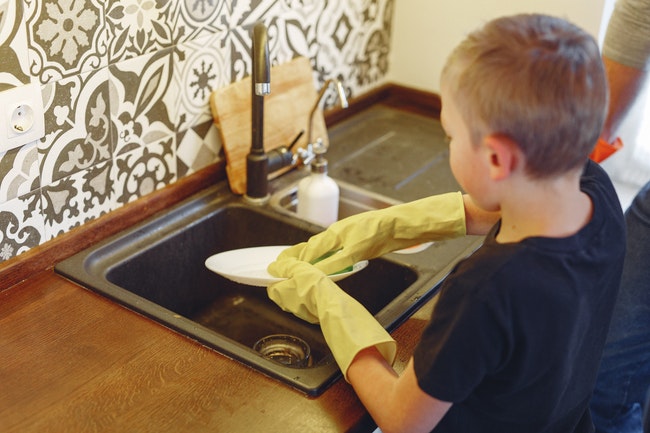 Image Credit
Studies show that letting kids take on chores at home is good for their health and well-being especially later on in life. The kids who do chores at home are most likely to fare better in life as they grow old.
Some parents are of the mind that kids should be allowed to be "just kids" and let them do the things that are for kids. There is a time for that, I do believe that, too. But I am of the mind that kids who are given tasks at home learn responsibility early on. Kids feel more competent when they know they can take on a given task like washing the dishes or sweeping the floor, or throwing the trash in the bins toronto at the back of the street alley, or even making their beds. The idea that when they do their given chores at home they contribute to the overall cleanliness and upkeep of the house is a great feeling for a kid of any age.
Here are a few suggestions on how to distribute chores to kids at home.
Give kids simple tasks to take on. Make the bed. Sweep the floor. Pick up the dirty clothes and put it in the laundry area, or even, in the hamper. For older kids: wash the dishes, take out the trash, mow the lawn, walk the dog.
There are many simple tasks that kids can do. The idea is to talk to them about the chore assignment, make sure that it is not in the way of school assignments, and that they know the goal of the tasks they are being given. Also, make sure that the tasks are age-appropriate.
Recognize a job well done. This is even if the task is not really that "well done" but given the kid's age, you know the kid gave his best in doing his assignment. Recognize the effort. Give the kid a pat in the back. That way, the kid will feel proud of what he accomplished and will be motivated to do better next time.
Include the whole family in the assignments. This is something I feel strongly about. I love that the whole family will be involved in as simple as household chores. I am of the mind that the little ones at home will learn best from following the older ones' examples. Walk the talk. If you want the kids to do their chores, make sure that the adults do theirs, too, and that the kids are aware of it.
Make the chores fun to do! Make the chores fun for the little ones. Give out stars for tasks done on time. Give them something to look forward to on weekends. Think of what will make the kids smile while doing their chores.
Lastly, do not scold your kid when he failed to do a chore the way you taught him how. He might have a better way of doing it in his mind.