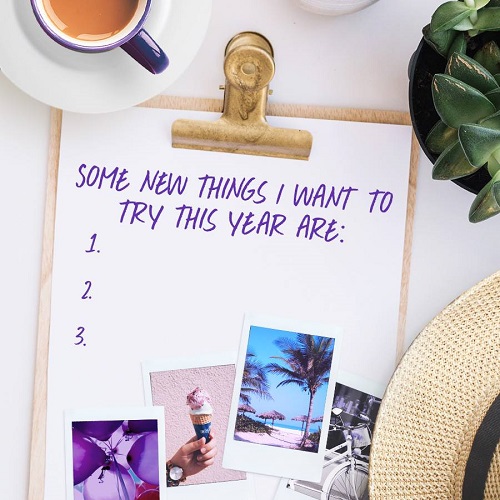 If there is one thing predictable about me, it's the fact that I love my comfort zone. I stay in it. I normally don't go beyond it. I am that boring, I am honest enough to admit.
But this year, I am all about self-care and going outside my comfort zone. I might just stay outside of it a few steps beyond it but for me, that's already a bold move. This year, I will be turning 40. The big 4-0! So, I feel that this year should be about me.
Three goals that I must accomplish this year:
Learn a new language.

I remember my cousin and I talked about his desire to learn a new language and how he's put it as one of his goals every single year. This 2018, though, he's taken the step to reach that goal of his. He's now officially enrolled as a French language student. I, too, would love to learn French but there's Spanish, Nihongo, Mandarin, Italian, and German. There are so many beautiful languages I would love to be fluent at.

I'd start with Nihongo, maybe?
Tidy up the house and make it zen-like.

I love a clean and organized house. If you belong to a large family and you all live in the same house, you would know and can definitely relate to the struggles of organization. There is always something to pick up on the floor, something you'd bump onto, something misplaced. This is the year that I plan to re-organize our home, make clutter disappear as much as possible, beat the heat indoors, and make our living space quieter, more peaceful.
Go on an adventure.

When I was in my 20's, I told friends that I wanted to go bungee jumping and white water rafting. I was always on a budget so money that I set aside for an adventure would automatically become a savings fund for family expenses. The desire to go on an adventure faded as I get older.

But now that I am turning 40 soon, I thought, why not now? I've always been too cautious and safe that when you dissect my life, you'd realize how boring it is. I am not going to go a daring, risky adventure. I am thinking that instead of bungee jumping and white water rafting, I'd go hiking. It's also an activity I'd always wanted to do but had no time for. I'd make time for it this year. I will start with hiking and we'll see what other adventure I'd get myself into.
My three goals for this year may not be too much for others but it's realistic for me, doable.
What are your goals for this year?