We're beginning to understand more and more about what we need to be happy, calm individuals. In an ever chaotic world, one of these things is making sure that we have a relaxing space to unwind after a long day. More and more people are adopting the philosophy of minimalism, which has the tagline of 'less is more.' Instead of having a bedroom that's full of belongings and loudness, our spirits will be better served by calming decor and practices. Below, we take a look at how you can turn your own bedroom into a minimalist haven.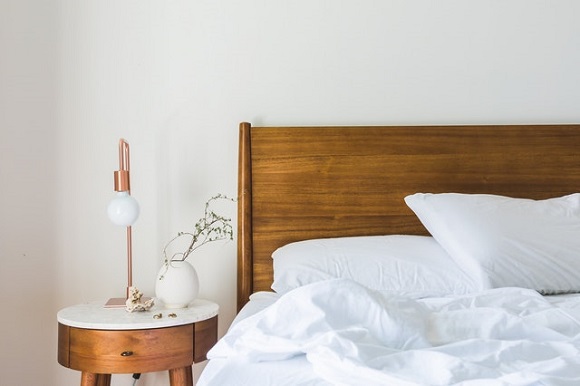 Source: Pexels.com
Get Rid of Clutter
To begin with, you'll want to go through your bedroom and get rid of anything that doesn't need to be there. We're all guilty of hoarding more stuff than necessary. We buy one thing, then another, and before we know it, we have more items in our home than we know what to do with. If our bedrooms are overloaded with material items that we just don't need, then it'll be hard to enter into the relaxing headspace we need for a full night's rest. So get rid of the junk: you'll feel liberated afterwards!
Focus on the Essentials
It's easy to get bogged down with taking care of all the things that'll make your bedroom look great. But remember, a good bedroom takes care of the essentials first, and then builds out from there. As such, you'll want to focus on the bed and lighting; the things that are conducive to rest, basically. Check out the best mattress provider, and make sure that your lighting isn't too harsh. You want to create a calming atmosphere where you can unwind with a book, as well as get a great night's rest.
Limit the Tech
A busy mind is the enemy of rest. And there's nothing that keeps our minds as busy as technology! While it might be tempting to lose yourself in your smartphone from the comfort of your bed, it's important to remember that you'll be undoing all of the good work that lying down is supposed to do! It may sound bold, but a 'no tech' policy in the bedroom will do wonders for your state of mind, and in the process create a calming, relaxing bedroom. At the very least, make a vow not to use your technology too much before you go to bed; leave a minimum of two hours. You'll feel and sleep much better if you do!
Peaceful Vibes
You can add a few extras to your room to in order to make it extra peaceful. Things like candles, incense, sweet scents, and more will all up for the comfort levels. Works of art are encouraged, too. Having a clean, organised bedroom, one filled with items that feed the senses is key to creating a relaxing, minimalist bedroom. Make the changes, and you'll soon find that your home is working for your state of mind, and not against it. In a week, you'll wonder how you ever lived any differently!