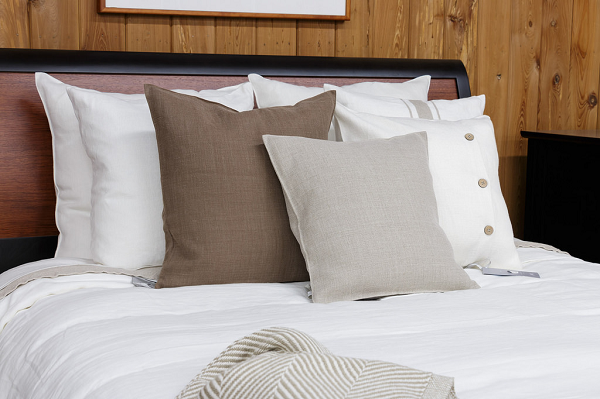 Image Credit
If you're looking to update your bedroom, why not consider a modern farmhouse style? You don't need to live on a farm, or even in a rural area to achieve this stylish, welcoming look; You just need to create a casual atmosphere, while giving a nod to country living. There is plenty that you can do to embrace the farmhouse style in your bedroom, but here are eight simple decorating tips to get you started.
Stick To A Neutral Colour Scheme
There aren't any set rules regarding the colour scheme of farmhouse style rooms, but, more often than not, you'll find lots of white, sometimes with pops of grey, black, and soft colour accents to mix things up a little. Yellow is a typical additional colour, as it creates a warm, welcoming, and cheery atmosphere, so you might want to think about painting your walls yellow. To make your room look a little more interesting, experiment with different textures and patterns.
Mix Old And New
A modern farmhouse bedroom should embrace the contemporary while also celebrating the traditional, and, as such, needs to have a mixture of new and old, or old-looking, furniture. These pieces don't have to match, but they also shouldn't clash, and should instead fit together, as if they matched. A modern farmhouse style bedroom is a great place to display antiques or vintage memorabilia which would have no place in other parts of your home.
Consider A Fireplace
If you're lucky enough to house a fireplace in your bedroom, then this will go a long way to creating the modern farmhouse look of your dreams. However, most people don't have this luxury, so, if you wish you had a fireplace of your own, then you could consider installing a faux fireplace. Of course, this won't produce any flames or heat, but it will look like the real deal, and so will look incredibly stylish in your room.
Get A Four-Poster Bed
If there is one piece of furniture that you should buy to achieve your modern farmhouse look, it's definitely a four-poster bed. Of course, these aren't the cheapest things to purchase, but luckily, you can usually buy beds online for much cheaper than from your average high street furniture store, so start searching the web before you hit the town. To give your bedroom an extra helping of homely, you could also invest in a traditional wooden rocking chair.
Choose Light Linens
White bed sheets are essential for any farmhouse bedroom to create a fresh and airy feel, so make sure you've got plenty. You can also stock up on pillows and old quilts and blankets, which you can buy from vintage stores, charity shops, and online. You an also check to see if your mom or grandmother have any hidden anywhere. Of course, you might not want to buy a secondhand quilt, in which case you can simply purchase a new, old-style quilt.
Add Touches Of Wood
All of the white in your room can look bright and airy, but it can also create a cold and bland space. To combat this, consider different ways that you could add colour to your room to warm up the space. A wooden four-poster bed is a great way to do this, as it is the focal point of the room, and draws the eye. You could also consider adding wooden picture frames, bedside tables, baskets, trays, and bamboo blinds, all of which will work together to create a much warmer atmosphere.
Get Some Greenery
Another great way to warm up your farmhouse bedroom and really make it feel alive is to add something living – A plant. It doesn't matter whether you're adding a few potted cacti, a vase of flowers, or a herb garden, as they will all brighten up your room in their own way. If you struggle to keep your plants alive, then consider buying a few faux plants, to save you the hassle of remembering to water them.
Add Farmlife Imagery
What better way to enhance your farmhouse style than by adding some farmhouse imagery? This could be in the form of a painting of farmyard animals or a farm itself or could be as an ornament or figurine of some kind. Both options are also great for brightening up your room and breaking up all of the white.
With these great tips, you should be able to design and create the modern farmhouse style bedroom of your dreams in no time at all.