What's your style? Feminine and flirty? Sporty and athletic? Dramatic and a little goth?
No we're not describing Spice Girls personas, though if that's your thing, cool! Everybody has that unique style and "look"; clothing and accessories that show the world their personality, conveys their interests, their aesthetic, and their unique charm at a glance. So what's yours?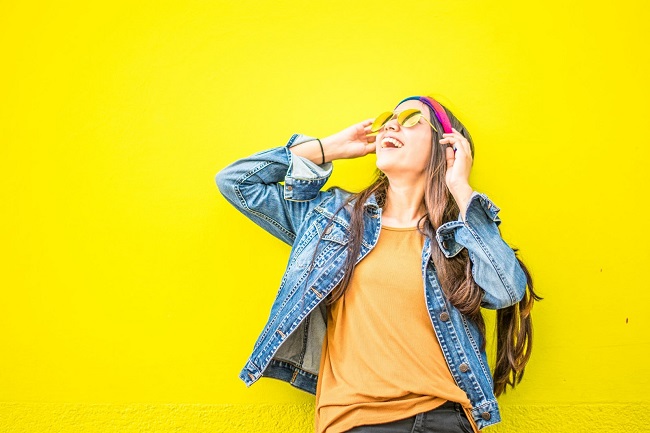 Photo Credit: Juan Mendez
Of course nobody these days has tons of cash to spend on clothes and accent pieces, do we? And yet, we all want to look fresh, unique and fun. That can be hard to do on a budget…but it can be done. We'll tell you how to choose one or two signature pieces to define your look and show the world that creative, lovable spirit.
How best to go about choosing a signature piece? It's easy!
Go Handmade
Got a friend who knits beanies? Does your little sister sell hand-made bracelets on Etsy? Are you really good at tie-dye? One creative (and affordable) way to find a unique piece that you know nobody else has is to custom-order something from a crafty person. Sites like Etsy can show you thousands upon thousands of cool hand-made pieces or you can go local and go to craft fairs, or just hit up someone you know! Better still, make it yourself! There's nothing like a hand-sewn, knitted or designed piece that is one-of-a-kind, made just for you.
Glasses
If the eyes are the windows to the soul, then glasses are the shutters. Everybody needs at least one cool pair of sunglasses; if you're like us, then you need three or four – one for every season and every mood. For others, who wear glasses full time, you might want to revamp your look. No matter your style – if you like cat-eye glasses with huge rims, sporty Oakley glasses, vintage coke-bottles or something in between, there are great styles available that will provide you with great eye protection while looking chic and trendy. Glasses are one of those things that complete every outfit, that you can't be caught without. Invest in a great pair and you won't have to replace them for years!
A Favorite Sweater
Everybody has a favorite sweater. Don't have one? Well, you should remedy that immediately. A favorite sweater is just like that fave pair of jeans: you can wear it with anything, it's incredibly soft and comfy, just putting it to your face makes you feel better about your day. Spend a little extra and it will pay for itself over time. Whether you like handknits, cashmere or something else entirely, a beautiful and comfy sweater will quickly become part of your everyday winter style.
Nice Kicks
Anyone looking to boost their fashion capital should invest in a great pair of shoes. If you're sporty and casual, a pair of cool Vans or Converse are a great choice. If you're more of a minimalist with a hint of an edge, maybe a pair of combat boots. For the practical and chic, a pair of loafers. If you're all girl, or need to be polished and classy for your job, a pair of stylish, well-fitting heels can do the trick. You get the drift. It's cool to bum around in cheap shoes most of the time, but always have at least one pair of shoes that make you feel amazing, that take your outfit into the stratosphere. Wear those shoes whenever you need a little boost!
With these simple style tips, you can make your wardrobe stylish and charming with just a signature piece or two. Best of all, you can do it without breaking the bank.