We're all spending a bit more time at home at the moment, and if you're new to remote working, or having to use a home office, you're probably getting a bit sick of seeing the same four walls over and over again! Don't worry, you're not alone; we're all going a bit crazy with cabin fever, and it's time to do something about this.
You're going to want to make some changes to the interior design of your home, as well as the way it works. You've probably never noticed these kinds of little issues before, like how those wallpapers clash or how there's not enough room on that bookshelf, simply because you haven't been exposed to your own home this much before!
So, without further ado, let's make sure you know what to change in your home, and how to go about making a change for the better. It's all about giving yourself a bit more to work with, a bit more to look at, and making yourself feel a bit more comfortable when you're stuck inside your own house.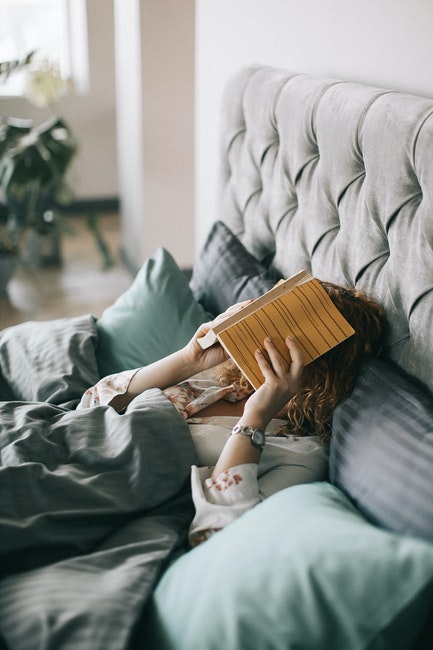 Image Credit
Switch Out Harsh Lighting
The lighting in your home is there for a reason, of course. It's there to ensure it never gets too dark, and you can enjoy your alone or family time with enough light to eat, drink, and be a bit merry.
But the thing is, the lighting in your home might be a bit too harsh, especially if you're a fan of overhead lamps. If you walk into a room and just flip the light switch on without really thinking about it, there's a good chance you're not doing your eyes or your mood any favors. And seeing as you've spent a lot more time at home recently, there's a good chance you're starting to become a bit over sensitive to the bulb that's hanging over your head!
Which means it's time to switch those harsh light tones and overhead lamps with something a little more soft and intimate, especially in your bedroom. Something that won't hurt your eyes, and will just give your surroundings a soft glow, but still with strong enough light to read or work by.
Using wall sconces is a great way to still give your room plenty of light, but without that harsh glare and open, ceiling hung lamp will provide. Plus, you can fit them wherever you like in a room, so it's up to you where they go!
Change Your Bedding
The bed you're sleeping in may be feeling mighty uncomfortable right about now, thanks to the amount you've been using it over the past few months. You've probably been going to bed later, and getting out of bed later, and there's a good chance you've been napping a lot during the day, or simply getting in bed and switching Netflix in. And this can ruin our perception of the bed, and stop us from getting a good night's sleep when we really need one.
Think about your current bedding; how old is it? What color is it? Is it ripped anywhere? Do you feel like it's thinning out? If any of these questions apply to your bedding, this is a great excuse to go out there and treat yourself to some new sheets.
Also, how old is your mattress? If it's approaching 8 years old, or if it's over 8 years old, it's time to switch it out for a new one! Plus, if you're sick of the feel of your current mattress, it's time to get to know what other options are out there on the market. For example, if you've got aches and pains during the night? Try a latex mattress. If you want to stop tossing and turning? Try a memory foam mattress. All in all, changing your bedding can drastically improve how you spend your nights, and can make you feel cozy under the sheets again.
Make Adjustments to the Bathroom
The bathroom is going to be a very commonly used room right now; you're going to become very acquainted with those soap stains on the sink that you never noticed before, simply because you were rushing out of the door in the morning! Don't worry, you've got a bit of time right now to clean up and make some proper adjustments to the bathroom, to make it more practical to use, and more comfortable to have a nice soak in the bath in.
Why not switch out your showerhead for a new one? Your old showerhead might need to be descaled right now, to ensure there's no dirt trapped under there, and that the pressure is coming out just right. But if you want to change the showerhead, you could have a whole new showering experience every time you step in and turn the water on. Try investing in a 'rainfall' showerhead, to make the water fall in a more natural way.
You might also want to invest in a new toilet seat. If you're using an old toilet seat that you think is getting a bit worn, or you're sick and tired of the current color or style of the toilet seat, it can be quite easy to swap it out for a new one. Be sure to take a look through a catalogue of seats such as Bemis toilet seat, and don't worry about the size of the toilet seat you might need either, as there's an industry standard that they're all made to.
Give Yourself More Storage Options
More storage options might be very well needed right now. After all, you've got a lot more things in your house at the moment, seeing as we're all ordering more and more things off the internet at the moment, and you might be noticing a lack of space in your home. Or, maybe there's always been a lack of space, but you're only just starting to realise the extent of this.
However, now's the time to fix this issue. It's time to clear up and tidy up, and make sure that those books all over the floor, or those potted plants overflowing in the window, have somewhere to go! Look into some space saving furniture items or installations, such as shelves in the cupboard under the stairs, or storage boxes to go under or behind the sofa.
You can always move your rooms around, to see if items fit better in one room than another, and even think about setting up some boundaries for yourself or anyone you live with. This item doesn't come out of this room, no glasses in the bedroom, etc. All in all, make sure your items are still accessible to you, but out of the way. Your home deserves to have a proper flow through of traffic to it!
Does Your House Need a Change?
Spending more time at home can really make us acquainted with where we live. We look at the same surroundings day in and day out, and that sometimes requires us to make some changes! When we have a bit of a spring clean, and change the walls or how the lighting looks in a couple of rooms, we feel a lot better about the home we live/feel comfortable in.
Make sure you keep the above tips in mind if you need to make some changes, and if you feel like flexing your interior design muscles. It's all about ensuring you've got the home of your dreams!