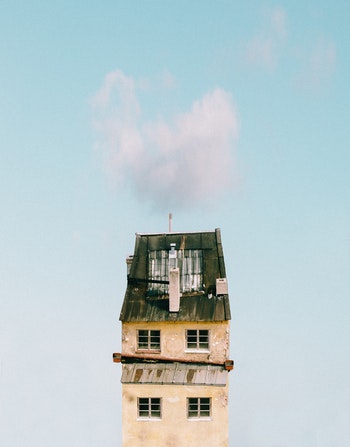 Like any other large family out there, our family also struggle with space. Currently, our home is a three-storey, fully-functional old structure that we first rented out before we purchased it. The ground floor is being used as home office, the second floor as dining and living area combined, and, the third floor has the bedrooms. What we love about the old house is that every space inside it is being utilized by every member of our family. No space is wasted.
So, why the thought of upgrading the house, then?
This side of the world was put in lockdown back in March 2020. Scary times. Also, being stuck inside, it became a time when you zoomed in every little thing at home. Number one thought: why haven't someone from the family noticed how cramped we are with the space we have now? Every sound echoes and can be heard in your meetings and online classes. Every space is being occupied by computer tables/desks, laptops, printers, and even writing areas. With three kids in the family and a couple of adults all in Zoom meetings every few hours, the cramped space is making us crazy!
Thus, the thought of an upgrade. Several considerations have to be discussed amongst family members, of course. Finances, for one. Timeline. And, there's also the matter of a temporary house for everyone while the upgrade is being done. If you are considering a home upgrade like us, here are three considerations we are currently mulling over.
Financing the home upgrade. These are scary times to be shelling out our hard-earned money but this is also a time when banks and other lending institutions are lenient in loans. Why not take advantage of it? Interest rates are down, amortizations are more affordable. We are actually considering a home remortgage. Remortgage the house to upgrade and repay it in a couple of years. One idea is to use the space above the garage. We can convert it into two rooms to be used for online classes of the kids. Another idea is to put up a fourth floor which will give us ample space a room for home office and two rooms for online classes. We are tossing the ideas and we have been computing, using a mortgage calculator.
With the budget for the upgrade secured, how long will it take for the construction to finish? Timeline is another big consideration. Time is money. The time for the upgrade to complete is the money we will have to spend. We are also reading up on help with the home upgrade. We are weighing the pros and cons of a bigger budget and shorter timeline, or a smaller budget and longer timeline.
A temporary shelter for all of us should the upgrade begin. We are a large family consisting of six adults and three kids. Work and school will be interrupted with the internet connection being affected, plus, the noise of a home construction will cause havoc in our online meetings. This is another consideration being weighed by the adults in the family. We might rent out a house temporarily or stay with a relative but it will put a dent on the upgrade budget.
This pandemic has put so many things into perspective. That is one positive outcome of the lockdown, being inside the house 24/7. You see issues and you find ways to solve it. Every problem is now being zoomed in because we all have time, and that's great, if you think about it.
So, is a home upgrade in this crisis doable? Yes, I believe it is. Just make sure the whole family is on board the idea and every little aspect will be discussed and decided on.