Over time, homes have a nasty habit of losing some of their luster. They start pristine, but weather, kids, and general wear and tear can cause them to depreciate. Over decades, a once smart property can begin to look dilapidated.
Fortunately, you don't have to give up at first sight of trouble. There's still plenty that you can do to enhance the appearance of your home and make it feel brand new again.
Strategy #1: Repaints Your Exterior Doors And Window Frames
Masonry tends to age very slowly, and will often change very little from decade to decade. The same, however, is not true of paintwork. A wooden door or window frame looks excellent on the day you paint it, but after about ten years, it starts looking very sorry for itself.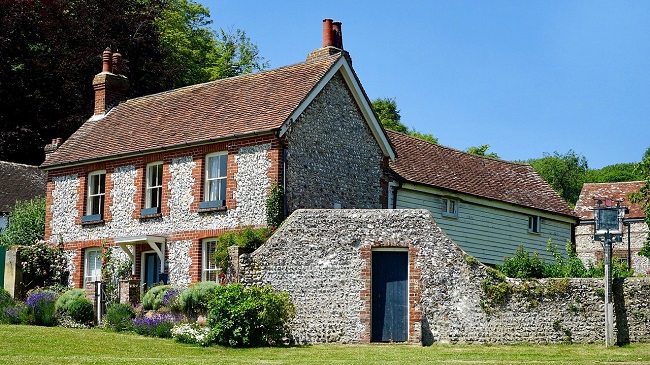 Image Credit
Painting all exterior surfaces, therefore, is a quick way to freshen up the appearance of your home. It isn't sufficient for a wholesale transformation, but it is probably the most straightforward approach available for quick results.
Strategy #2: Replace Your Existing Roof With Slate
Roofing companies typically suggest that homeowners replace their roofs every fifty years or so. Roofing materials have a nasty habit of degrading over time to the point where they no longer serve a useful function.
Instead of replacing the roof with asphalt, though, try using slate instead. Sure, it's a little more expensive, but, like a fresh paint job, it can make an enormous difference in how the property looks. Slightly blue slate gives your home a neat, premium look.
Strategy #3: Get Your Carpets Professionally Cleaned
Carpets rarely go from pristine to matted overnight. Instead, it is a slow process that takes many years. Over time, dirt becomes incorporated into the carpet fibers, eventually leading to degradation.
But even though regular vacuuming won't remove these trapped particles, professional cleaning will. Here, a trained operative – usually from a cleaning company – uses steam and hot water to lift dirt from the carpet. Depending on how much dirt was on the carpet, the final result can be impressive. Your carpets can sometimes look as good as new again.
Strategy #4: Repair Your Walls
Old homes have a habit of accumulating poor quality repair jobs, especially on the walls. Handymen or DIY enthusiasts will rip out a fixture or fitting, and then don't bother plastering over the resulting hole correctly. The final result is a messy, uneven finish that looks terrible.
Fixing these aberrations, however, can have tremendous knock-on effects on how you feel. With proper plastering, you can smooth over bumpy walls and make your interiors look brand new.
Strategy #5: Get Rid Of Dated Fixtures
Old homes have a habit of accumulating ancient fixtures. While some of these features add to the aesthetic quality of the environment, many do not. Furthermore, some actively detract from it. Pay particular attention to ceiling lamps and old electrical outlets. Both of these can age a room tremendously, making it look far older than it is. Where possible, replace old kitchen appliances with modern equivalents.