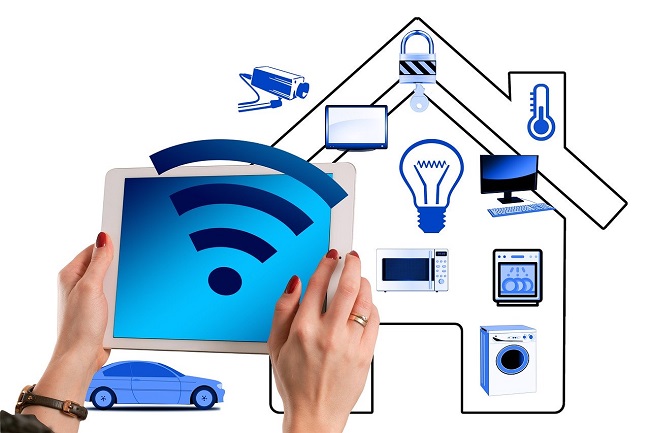 Image Credit
Even when times are good, we spend a lot of time thinking about our homes. But now that most of us have to spend practically every hour of every day in them, that focus has shifted up a notch. We're far more obsessed with our interiors in 2020 than ever before.
Hometech has moved on considerably in the last few years. Ten years ago, the concept of a "smart home" wasn't even on the radar. Now it's practically a part of the language.
Technology is helping many of us through what is an otherwise challenging time. Think about it: we have all of the entertainment we could ever want on Netflix and Disney. And we can communicate with our friends and family via zoom. We also have all manner of gadgets lying around the home that make being stuck indoors considerably more tolerable.
In this post, we're going to take a look at the home tech keeping you entertained and comfortable during the lockdown. Enjoy!
Blenders That Vacuum Your Food At The Same Time
Okay, this one might sound a little weird, but don't knock it until you try it!
When you use a typical blender, the action of the blades impregnates the resulting liquid with air bubbles. These then alter the taste and texture of the food you're consuming. The effect is usually positive when you're making, say, a strawberry smoothie. But it can be detrimental if you're making a savory dish.
Now, though, blender companies have come up with a solution – apply a vacuum. Here, you place the lid firmly on the top of the blender, switch it on, turn on the vacuum setting, and then hit go. The mixer then whips up the mixture and draws out any excess air at the same time, leaving you with pure liquid. It's almost magical.
Fridges That Order Food For You
No smart home system is complete without a smart fridge. These incredible objects are a massive step up from the refrigerators of old. Not only can you control them remotely, but they can actually make decisions on your behalf, such as ordering food for you.
How it works goes something like this: a camera in the fridge detects that you're running low on milk. It then sends an order to a grocery delivery service telling them what you need. The service then ships you the missing items, completely negating the need for you to do any work yourself.
Yes, granted, the technology still needs a bit of work. But it is an exciting prospect for the future, and ideal during lockdown when you don't want to go to the store.
Something to be aware of when you add a smart device like this or similar pieces of tech to your home is that it will put more pressure on your broadband. If you don't want to face a significant slow down, make sure that you explore a new bundle or package available from sites such as www.highspeedoptions.com. After all, a modern home with the latest tech requires modern connections.
Speakers That Play Music Depending On Your Mood
Imagine if you could walk into your home, and speakers would suddenly start playing music to reflect your mood. You wouldn't have to spend ages fumbling around on for a particular Spotify playlist – it would happen automatically.
Now, you can actually get systems that will do this. Most are voice-activated and will work anywhere in your home via Bluetooth.