If you've got a new baby on the way, you might be looking at your home with new eyes. When babies grow into toddlers, your previously safe home suddenly begins to look dangerous. You might be noticing all the sharp corners on your furniture, the pond in the garden, and all the cleaning chemicals you keep under the sink, and wondering where to start to make your house safe for a growing child. Here's how to do it.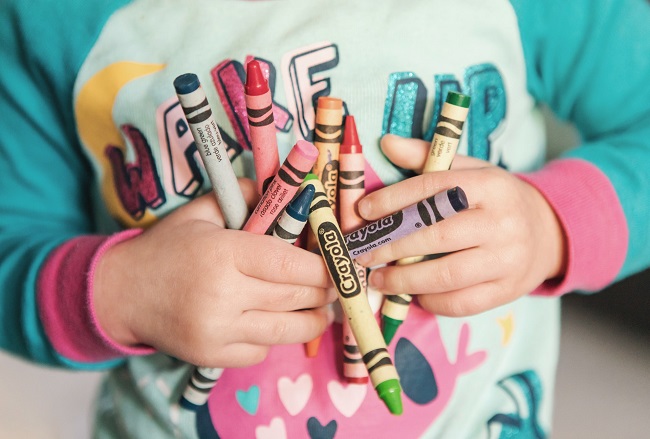 Image Credit
In The Living Room
Keep items like candles and matches well out of reach. It's easier than you might think for a toddler to accidentally light a match and start a fire. If the child chews on a candle you've left in reach, they might choke on the wax. If you love candles, think about switching to flameless LED candles, which mimic the effect of flickering candlelight.
Photo frames should be up and out of the way. A knocked over frame can cause the glass to shatter, which can lead to nasty cuts. Keep them out of grabbing reach or mount them on the wall. You could consider switching the glass for plastic.
Think about mounting your TV. If your toddler tries to climb up onto your TV stand, the set might fall, causing nasty injuries. If you can, securely mount the TV on the wall. If you can't, anchor the set to the wall even if it is on a stand. You can put velcro straps through the air vent holes and connect them to eye hooks that you screw into the wall.
Cover the fireplace. Heat-resistant gates should be used when the flames are on. Buy pads for the edges of the hearth if it is sharp or stony, to avoid injuries from falls. If you have an artificial fire, check that any small decorative stones that are in it are fixed down, so they can't become a choking risk.
Cover any power strips. A child left alone for even a moment, can easily unplug a cord and put a metal object into the socket. Buy socket covers, and either buy a power strip cover or push the power strip out of reach behind the furniture.
Cover table edges. The coffee and the dining table have sharp corners and edges that could be very dangerous for a small child learning to walk. They could easily cut their heads or eye area. It's especially important to cover glass tables, as these can cause real damage. If you have a glass table made of non-tempered glass, consider replacing it, as glass like this can easily shatter.
Make sure you keep windows locked. An unlocked window that a child can open could be the cause of a nasty fall. If you can't securely lock your windows, or they are easy for a child to open, it might be wise to replace your home's windows for something more secure.
In The Kitchen
Fit a gate in the kitchen door. There are a lot of potential risks in a kitchen, so make it off limits for when you're not there to supervise. Never let your child in the kitchen without you there.
Lower cabinets should have child-locks. Cleaning products, like polish and drain unblockers, are very toxic. The cabinet they're in should be kept locked with a magnetic lock or a latch. If you can, keep items like this high up, where they can't be reached. Even with chemicals out of the way, keep cabinets low down protected. Children can easily hurt themselves with heavy pans or broken crockery.
Be careful with the dishwasher. The main danger is the detergent, so don't put any in until right before you need to run the dishwasher. Don't leave anything in the dishwasher when it's not in use and make sure knives always go in blades down. If your dishwasher has a lock setting, use it. If it doesn't, buy an appliance lock to keep it closed.
Keep the microwave high up and out of reach. If your child is with you in the kitchen, don't turn on the microwave then walk away, and don't leave hot foods in there. Be careful when removing hot things from the microwave, and try to keep your child out of the way when you do it to avoid spills.
Make the stove save. Buy a stove guard, which is a plastic or metal shield that attaches to the front of the stove to prevent little hands grabbing the buttons and turning it on. You can also buy covers for the stove's knobs. If you can't find any to fit, take the knobs off when you aren't cooking so curious fingers can't twist them, turn the oven on and end up burned. When cooking, use the back burners of the hob when you can, and always turn pan handles inwards, where they can't be grabbed. Keep the oven hard to open. An oven that can be opened easily could cause burns or injuries from being hit with the heavy door. Don't hang a dish towel on the oven door where it can be pulled to open the oven. If you can, lock the oven door, or fit a latch to it.
Make sure small appliances are inaccessible. Most toddlers can reach counters, where they might be able to grab appliances and pull them down onto themselves. Keep cords out of reach too so they can't be used to pull appliances off the counter.
Keep cutlery and kitchen knives out of reach. A knife block on the counter is convenient for you, but is a risk for a child. Keep knives in an out of reach cabinet, where they can't be grabbed by little hands.
Secure the refrigerator. If your child can open the fridge door on their own, fit a latch. If you can't, at least think about the contents. Choking hazards, like grapes, and breakables, like glass jars, need to be out of reach on a high shelf.