Wherever you are in the world, the chances are your life has been affected by the COVID-19 pandemic. It doesn't take a genius to tell you that things are different now, and with the vaccine seemingly far away in the future, our new normal might last longer than we think. Although, of course, the best advice is to stay at home and try to flatten the curve, sometimes going out is unavoidable. Many people are struggling to feel safe while going outside, while others seem to be going stir crazy at home, trying to find things to do while they're on lockdown.
Despite the anxiety-inducing circumstances, there are things you can do to keep your hygiene as the top priority when you take outings. Essential medical needs, like taking a hearing test or picking up a prescription, involve going into a pharmacy, where others have been coming in and out all day. Likewise, visits to the supermarket are inevitable; while social distancing rules are being applied in some places, taking responsibility for your own safety is the smartest thing to do.
Mask up!
While it's been stated by medical professionals that wearing a non-medical grade mask will not protect you from others' illnesses, it will protect others from you. Even if you feel fine, you could be carrying coronavirus without realizing it, so wearing a mask assures your sense of social responsibility. Plus, having your face covered will prevent you from touching your nose and mouth – something we all do, often without realizing it.
Additionally, making your own mask can provide a fun lockdown activity for all the family. You can choose your colour and design of the mask, and introduce the idea of mask-wearing to your children in a fun, stress-free way. Everybody wins!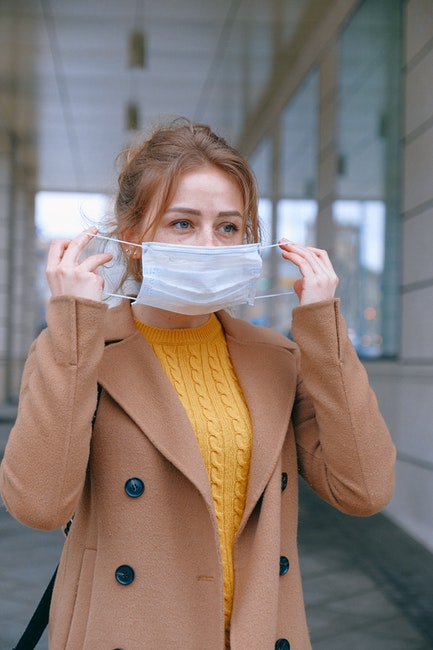 Image Credit
Hands off!
As human beings, we can't be conscious of where we put our hands all the time. However, this crisis is requiring us to be hyper-aware of the dangers we pose to ourselves by touching things unnecessarily. When you're shopping, keep a bottle of hand sanitizer in your pocket, using it often. It's tempting to pick up products to examine them carefully, then put them back on the shelves – but try to avoid this, as you might be leaving bacteria on the object, which will then be transferred to another person.
Leave your phone behind!
This might seem counter-intuitive. Most of us consider our phone as an extension of our arm by now. However, mobile phones are the perfect breeding ground for bacteria. When was the last time you cleaned your phone screen? Exactly. We use our phones all day, every day, pressing them against our faces, without realizing that everything we touch is transferred onto them. When you're out and about, using your phone in a public space can transfer particles from your phone into your surroundings, and vice versa. It's important to stay vigilant and leave it behind – it might even feel good to be phone-free for a few hours.