Being lucky enough to own a lot of possessions is one thing, but having enough room to store all your possessions is another. Over 25% of Americans admit to having challenges when it comes to household clutter. But not everyone can afford to move into a more spacious house. Plus, bigger spaces are not necessarily the solution to cluster problems. If you feel your abode is currently a mess, consider some of the following space-saving tips to make life at home, or the office organized and clean.
1. Lofty Ideas
This idea is perfect for small homes or offices that have the benefit of high ceilings. You can take advantage of the high ceiling by building lofts. At home, you can build a loft for use as an extra bedroom or living space (depending on how large the space is). Most people living in studio apartments have found this idea to be very helpful, as it helps to separate your private space from the rest of the apartment. In your office, the loft can house some important documents or even an extra office space.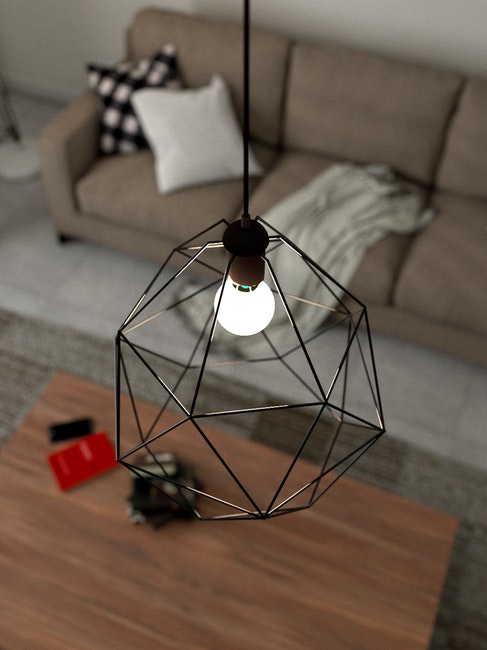 Image Credit
2. Pull-out Tray Tables
This is especially beneficial for those who work from home and require some workspace. Installing a sliding table is an excellent way of creating a workspace at home. The great thing about slide tables or pull-out trays is that you can install it anywhere in your home – whether in your kitchen, bedroom, or living area. The only extra thing you'll need is a chair to tuck under your table. Once you're done with work, you can take the chair out of the way. If you already have a small table for work, you can boost the amount of space you have by attaching a roll-out desk. You can slide this desk out of your table to give you more room to work. And slide it back in when you are done.
3. Wall Shelves
If your floor looks a mess with too much stuff, you can create enough space by building wall shelves. Wall shelves, when done properly, offer more than just a storage platform. They also add to the character and style of the room. The idea can even extend into your bedroom or wardrobe. With the latter, all you need to do is to add a few more shelves if the space is available. Or, you can extend the length of your wardrobe by attaching extra shelves to it. Your home-based working space will also receive a lot of boost with the addition of a wall shelf. It will also help to avoid clusters and make it less difficult to organize your stuff. In the office, wall shelves can provide extra space for files or even picture frames.
4. External Storage Options
Working from home comes with a lot of risks, especially if you have a large family and no proper privacy. There may be some documents that need protection from the wrong hands. In this case, you can consider storage options outside the home, such as small storage units that offer self-storage services. The benefits of using self-storage units also extend to the office. In fact, you can use this option to improve the living space in your home. This option also comes with other advantages. These include protection from environmental damage, added security from theft, and some peace of mind.
5. Wall-mounted Storage
Of the few ways of saving space and giving your home a new look is by adopting wall-mounted storage techniques. In short, what goes up, stays up (until need, that is). Don't confuse this with wall shelves. Wall-mounted storage is best taken advantage of in the kitchen and storeroom. Plus, they are very simple to install. All you need to do is fix some hooks to your wall and hang stuff on them. You can hang anything from hats, coats, kitchen utensils, towels, you name them. Thus, aside from your kitchen and storage rooms, wall-mounts can go anywhere. Wall-mounted storage will save you a considerable amount of storage space anywhere in the house. This system also allows you to proudly display your kitchen cookware when helping solve cluster issues.
6. Sliding Doors Or No Doors
Don't you just hate it when a door takes up too much space when you open it? A simple remodeling can help take care of this problem. In rooms where extra space is needed, you can opt for sliding doors instead of the traditional doors. Because the latter opens at angles, the door will require some space in order to function. But a sliding door, well, simply slides out of the way. Hence it gives you the chance to make use of that tiny bit of extra space for a drawer or a wall shelf. Sliding doors are an excellent alternative when privacy is needed alongside more space. However, there are some places that do not require the use of doors. Let's take the bathroom, for example. You can make your bathroom seem more spacious by eliminating doors. And instead of having a separately tiled area for the shower, you can use the same floor tiles throughout the bathroom. This will help create the impression of a larger bathroom.
7. Folding Bed
Using a folding bed comes with so many benefits, especially when you're living in a studio apartment. Our beds play an important role in our lives, so we need to take very good care of them. Folding beds are designed for the specific purpose of saving space. They are portable and make for very efficient storage. There are different types of folding beds. There are the ones that can be fixed into the wall and released when they are needed. There are also types that are stand-alone but can be folded to make them easy to put away after when not needed. Some types of beds can be 'folded' into a sofa and expanded into a bed during the night. Plus, the fact that most folding beds are designed purposely for saving space does not mean that they are less comfortable. There are several types of designs to choose from – each different offering levels of comfort and style.