What is cabin fever? I Googled it and this came back:
cab·in fe·ver
/ˈkabən ˈfēvər/

noun INFORMAL•NORTH AMERICAN

irritability, listlessness, and similar symptoms resulting from long confinement or isolation indoors during the winter
Truth is, I've been feeling all of those things and more. And it is not winter in this part of the world where I am in. In fact, the weather is hot and humid. But this part of the world is still very much being attacked by the virus that is making every person in the world worried and angry. Our lives are dependent on a bi-weekly announcement from the president.
Is this cabin fever?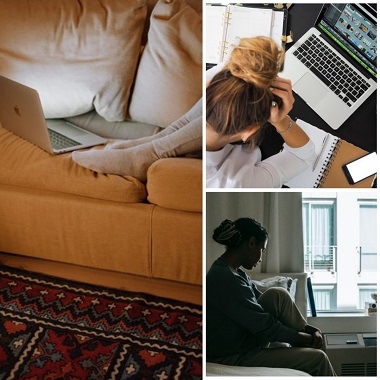 I should get it out there that I am one of the lucky few who get to work from home and be with my family almost daily. I go to the office once or twice a week, only when there are absolutely necessary tasks to be done. Most days, I work from home and my schedule depends on what I need to do. Yes, I am lucky that I am earning while being able to stay indoors.
But being cooped up inside the house is getting to me. I admit it now. I feel restless, worried, anxious, and angry. I cannot stay put in one place nowadays. And the weather is aggravating my emotions. You can find me sitting on the epoxy flooring, on the stairs, on my stomach on the sofa. I cannot work as peacefully as I used to.
When the pandemic was in its first few weeks, my sister and I would go to the market every Sunday morning. It became a routine until a few sellers got infected with the virus so the market was shut down. Now, every few days I go to the grocery store to buy essentials. The number of cases are still rising so there is more anxiety in going elsewhere. I don't. I stay put indoors unless I totally need to go somewhere. It is my way of contributing to the welfare of frontliners who are exhausted and about to give up since last year.
Maybe, I will go out very early to walk around the block. Maybe. We live near a hospital so I am not sure about the situation. I will ask around first. But I will do something about this 'cabin fever' because it is getting to my head. And I don't want to start feeling sad about the situation. I can overcome this. I can find a way. We all can. We just need to find alternatives to what used to be our daily routines so we can stop feeling anxious and listless.