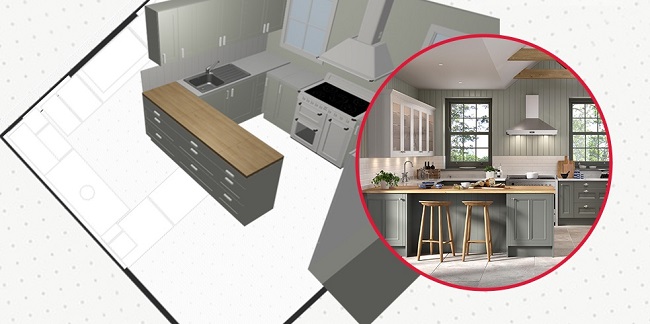 Image Credit
The kitchen in my sister's house is tiny. Only two to three people can fit in it and navigate it at the same time. It is a small condominium unit, anyway, so it can't be expected to house a big kitchen. My sister and I were talking a few weeks back about how to do-it-yourself (DIY) renovate your old kitchen and we came up with some ideas to get it started.
1. Demolition. We will do the demolition of the old kitchen ourselves. My sister's boyfriend will help, here and there, as he's busy with work but there's another set of hands we can use. We already checked what can be saved. The kitchen cabinets will need fresh paint and some sprucing up but it can still be used. Also, the appliances. Just some cleaning and strategic placements in the new kitchen will do.
2. Kitchen tiles. We browsed great kitchen ideas online and we found some very useful ideas on how to make her kitchen look big. We will utilize the area designated for washer and dryer. My sister goes to a self-serve laundry establishment. Easier and more convenient for her.
So, we agreed that we can do the kitchen tiles, backsplash, ourselves. Anyway, it is just a small area on the wall and we can easily DIY it.
A side note. Another sister and I are obsessed with home renovations on TV. We just love how each room in the house gets transformed from drab to fabulous right before our eyes. We religiously watch a couple of shows so you can say we're "experts" on reno.
3. Over-all design and layout. We plan on getting an expert to draw it for us but the over-all design and layout of the new kitchen will come from us. No more washer and dryer area and instead, it will house the oven and the new refrigerator.
All the other aspects of the kitchen renovation will be left to experts. Electricity for the lighting and appliances is best left to a professional. We don't want to cause a fire. Also, the kitchen counters. It would be easy to just get it cemented and we can tile it. My sister wants a butcher block, though. That is something beyond us so we will leave it to a professional, too. My sister's boyfriend knows someone who can customize a butcher block regardless of the size and shape you want.
The kitchen floor will stay as is. It is hardwood kitchen flooring and it is still as good as new.
My sister actually knows how to take care of her unit really well. She gets it cleaned from front to back every six months. She got it repainted in white after three and a half years of living it. I just know this DIY kitchen renovation we talked about will get her place more organized and looking like brand new after.