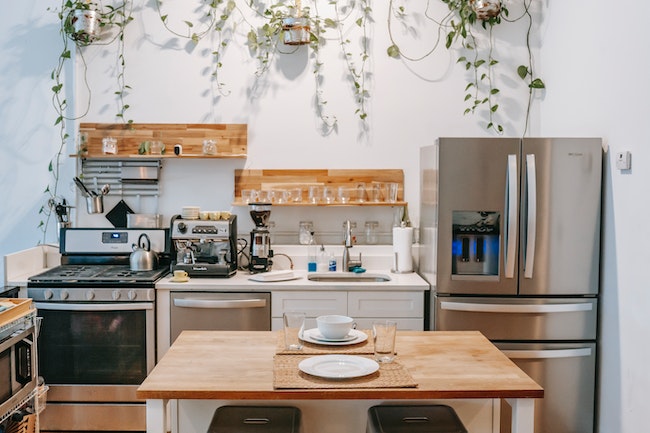 Image Credit
I am saving up to buy a new refrigerator. A bigger one, two-door, and with an efficient, energy-saving motor running it. We have a regular-sized one right now and it's been with us for roughly seven years already. It is still in good working condition but the storage capacity is not enough for the family anymore.
Again, the pandemic has made us realize and discover so many things at home. The fridge is one of my discoveries. There is not enough room for everyone's stuff. We went grocery-shopping and stashed consumables good for two to three weeks at a time. The fridge was always packed to capacity! Cash flow was unpredictable that time so I told myself that I would buy a bigger fridge when the economy is more stable than it was back then.
I started searching for the best refrigerator for a big family like us. I found a 29.5 cubic feet two-door refrigerator with the freezer at the bottom. Yes, it is energy-efficient, an inverter. Our current refrigerator will still be used so I am also making sure that there is an efficient appliance repair services nearby. Just in case it breaks down unexpectedly.
But let us talk about a refrigerator's lifespan. Majority says that it lasts for ten years, while some say that it lasts up to twenty five years depending on the usage and maintenance. I believe the latter. Growing up, we had a heavy-duty fridge that lasted for years and years. I was not able to count it but, if I am not mistaken, it was replaced when I graduated from college. I think I was the one who replaced it. My parents wanted to keep it but we were advised by an appliance expert to replace it since it is consuming so much energy, the fridge being an old one without an energy-saving motor running it. Most likely, it served us for a minimum of fifteen years.
According to the US Department of Energy, refrigerators can last approximately up to twelve years. If your refrigerator has been running for more than that, have an expert check it because it might be time to replace it with a brand new one. It might cost you a lot now but it will actually save you some money in the long run. It was the same advice given to us by the appliance expert who checked our old fridge.
My suggestion to large families like us who live in a single house unit, get professional experts to check on your appliances. Make sure it is not taking too much from you but instead serving you while at the same time saving money for being efficient.