Curb appeal is usually something the average homeowner only worries about when they're trying to sell their house. Curb appeal just means making your house look good from the outside. Curb appeal can be used for your house even if you're not planning on selling it any time soon. You can use some of the classic curb appeal tips for your home to make it look welcoming and beautiful from the outside, to impress visitors, and to make you happy every time you get home and see it waiting for you.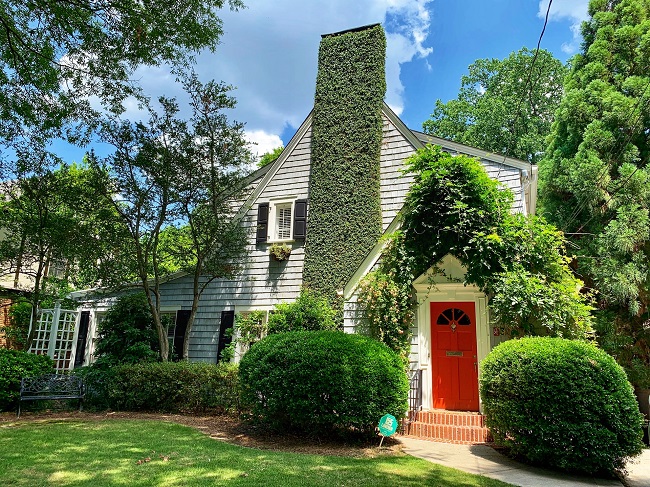 Image Credit
1. Trim back your garden shrubs. This is one of the simplest ways to keep the front of your house look a lot tidier and to give it some serious appeal. Cut back any shrubs, bushes or hedges that are getting a bit overgrown and aim to keep them looking neat and tidy all the time. A front garden that has been kept tidy can make the house feel fresh and new again and will always look good.
2. Add some cheerful plants in pots. Buy some attractive plant pots in a few different sizes. Fill these plant pots with a selection of flowers and green plants. Flowers are a simple way to add a pop of cheerful colour and some visual interest to the front of the house. Choose plants that smell nice too, so you can be welcomed home with a waft of pleasing scents that you can enjoy opening the front door to. Put your new pots of plants around the front door where they will look welcoming and cheerful. Hanging baskets could be a good choice too to add some interest to a plain house front.
3. Clean the windows. If your windows are dirty, then your house is never going to look at it's best. You can keep the windows clean to keep your house looking smarter and better cared for. If you hate washing windows yourself, hire a company to do it for you, but keep on top of it. Fingerprints, grubby smears, and other smudges won't look good, whereas clean windows will look good from both the inside and the outside of your home, and will be better at letting the light in.
4. Paint the front door a colour you love. Painting the front door a pretty colour will look very eye-catching from the road and can be a great way to add some fun to the look of your house. Choose whatever shade you like best, whereas that's a more classic shade or something a bit funkier. Don't be afraid to choose a bright colour, as these happy shades will stand out against the greenery and can't fail to make you smile when you pull up outside the house.
5. Clean the front path. Paths and patios can soon get grubby if they're not cleaned on a regular basis. A good clean with Propel Pressure Cleaning can make a big difference. At the start of the spring, get your garden looking better by giving any pathways or patios a good clean so they look fresh. This will make your house look much more put together, and will brighten up the front of the house.
6. Add some seating on the porch. If you have a porch with enough space, why not add some seating? A porch swing, a long bench, or a set of smart chairs with a little table all look welcoming whenever someone is coming to visit the house. Some seating at the front of the house also gives you a spot to sit and relax with a cup of coffee where you can watch the neighbourhood go by. For a smaller porch, even a single chair in a material like wicker can look cosy and welcoming, and gives you somewhere to sit to take off muddy shoes before going inside the house.
7. Make your entryway as welcoming as you can. An entryway that has been thought about and well-decorated, whether a porch or the front steps, makes your house look much smarter. This will welcome visitors in the right way and make a good impression as soon as someone arrives at the house to see you. Repaint the front door regularly so the paint doesn't start to look faded. Keep the entrance area clean and tidy, and free from clutter like abandoned umbrellas and muddy boots. Put out some bright plants in pots, and keep the front door's hardware clean. A bright or patterned doormat is a good addition too to add a splash of personality to the front of the house.
8. Light up the front of the house. Lighting at the front of the house not only looks good but can help to make your home feel safe and more secure too. Automatic lights are very handy for you for when you arrive back at home in the dark. The light will come on to light your way to the door without tripping or fumbling for your keys in the dark, and will also act as an effective deterrent against any would-be burglars coming towards the house. Solar lights along the pathway at a low height can light your way to the front door, or be used to highlight the best bits of your flowerbeds. An automatic light over the door is effective for security, and for lighting your way through the garden.
Curb appeal isn't just for estate agents. Even if you never plan to sell your home, you can still use these tricks to make your home look gorgeous from the outside, so you can feel proud of it every time you arrive home. Why not make your home as nice as possible for you, and for anyone who comes to visit you, and not just for would-be buyers? With some simple additions, like lighting and plants, you can really change the feel of the front of the house and make the house welcoming, pretty, and ready to greet you when you get home at the end of the day.