Nowadays you don't need a PC to run a business. You may not even need a laptop. A smartphone could be all you need to run your business. And a good online content creator.
Smartphones are the ultimate multipurpose tool – you can communicate with them, do your accounting on them and even take photos to post on company social media. They're also very portable, making it possible to run your business from any location whether you're in an office or stood up in a busy train carriage on the way to a meeting.
A smartphone does however have its limits and drawbacks. Here is how you can overcome these limits and drawbacks and run a business successfully using nothing but this device.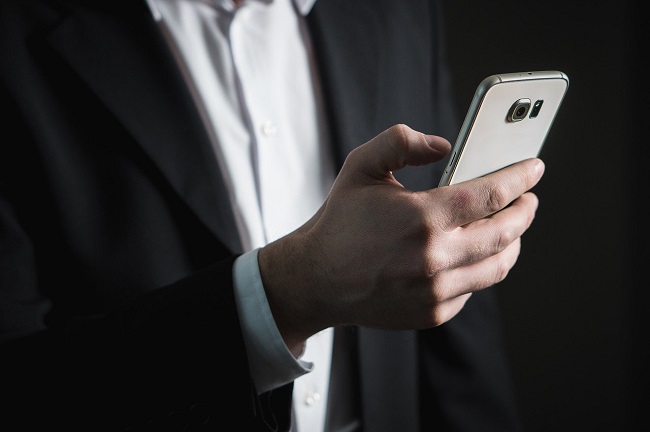 Image Credit
Buy a separate work phone
It's worth owning a separate phone for personal use and a separate phone for business use. This can help you to separate your personal and work life. Without this separation, you could find yourself getting distracted by personal Facebook and WhatsApp alerts when trying to work, as well as being bothered by work calls when trying to enjoy your free time.
You can log in to your work emails and business social media on one phone, while logging into your personal social media and emails on the other. On top of this, you'll have two different numbers, so that you don't have to give out your personal number to clients.
Separating the two can make bookkeeping easier too. You can more easily track work-related phone costs and deduct these as expenses from your taxes. This is much harder to calculate when you're using the same phone for personal use and business use.
Choose the right contract
When choosing a contract for your work phone, consider looking into business phone contracts. Some of these 'business' plans can be cheaper than personal plans, offering free texts and calls to certain people in some cases.
A high-data plan could be useful if you plan to work on the go, allowing you internet access from any location. To maximise your data it could also be worth learning how to decrease your data usage. For instance, using certain apps could be using up unnecessary data as you're working on the go.
Buy a portable charger
If you're using your phone for all things business related, you can expect the battery to drain fast. In order to keep your phone charged up on the go, consider buying a portable charger. This could save you having to run into a coffee bar with plug sockets just to charge up your phone.
There are many different types of portable charger on the market. Some are able to hold several full charges. Just make sure that you charge your portable charger up each night.
Invest in portable wi-fi
If you want unlimited internet access on the go without relying on your data, another option could be to use your own portable wi-fi. There are wireless portable wi-fi routers that can fit in your pocket. Some of these can be topped up on a pay-as-you-go basis, while others may be combined into your home/office internet bills.
It's worth comparing various forms of mobile portable wi-fi.
Download the right apps
With the right apps, you can handle all your business's admin on your phone.
Accounting apps could be just one useful tool for helping you to do your bookkeeping. You can link up some of these apps with your bank account and automatically calculate tax on earnings. Some of these apps also allow you to handle your payroll, as well as invoicing clients. It means that you have access to all your financial information in one place.
It's also possible to make use of project management apps that allow you to monitor the progress of employees and tasks. These apps can save you having to gather everyone together for regular catch-up meetings as you can simply track the progress of tasks digitally.
A document signing app could also be worth downloading. These allow clients and suppliers to send digital contracts that you can sign digitally using your touchscreen. It's much more convenient than physically posting paper contracts.
Finally, it could be worth downloading a video-communication app. This could allow you to communicate with clients by video when needed.
Start using voice command
Voice command can allow you to use your phone hands-free. This could be useful when carrying out physical tasks such as driving or manual labour.
You can use voice command to do everything from writing and sending emails to making and receiving calls. Most smartphones have in-built voice command features – it's simply a case of setting them up and getting used to them.
Consider buying a Bluetooth keyboard
The big advantage that laptops and PCs have over smartphone is the ability to type out emails, reports and other written content. While some people are fast at texting, it's still not as convenient as using a keyboard.
Fortunately, it is possible to connect a Bluetooth keyboard to your phone. This could allow you to type normally when you need it.
Secure your phone
Security is a priority when running a business. All your personal information will likely be accessible on your smartphone, so you need to ensure it's protected against criminals.
Firstly, you should try to set a strong lock screen password. Many modern devices also have biometrics enabled such as fingerprint scanning and even facial recognition in some cases. If your phone falls into the wrong hands, having these protective barriers in place could stop them from being able to access your personal information.
It could also be worth using a VPN when logging onto public wi-fi on your phone. Some public wi-fi connections can be insecure which can make it possible to steal your personal information. When using a VPN, your personal information is concealed.
You should also consider insuring your smartphone. If you lose it or if it is damaged it could have a serious negative impact on your business. Insurance could help to pay for a replacement.
Backing up your phone's data on the cloud is also recommended. Most modern smartphones already do this automatically, but you may still want to double-check. By backing up your data, you can still access it on another device if your phone is lost or destroyed.